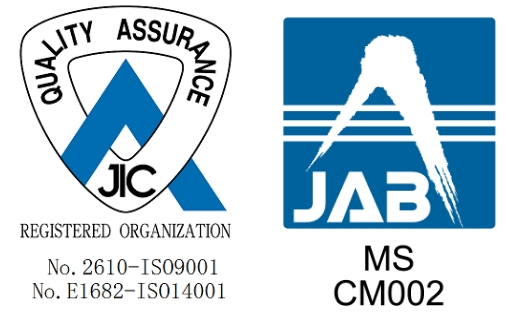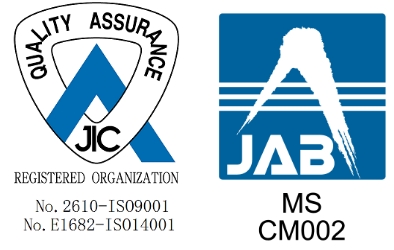 Takasago Industry has obtained ISO9001 and ISO14001 certification.
Takasago Industry will promote environmentally conscious management to meet the needs of customers and society. To that end, we will not only improve quality, but also work to reduce the environmental impact at our offices, and to increase sales of energy-saving and recycling equipment.
Registration
Registration Authority
JIC Quality Assurance Ltd. (JICQA)
Applicable Standards
ISO 9001: 2008 / JIS Q 9001: 2008
(registration number 2610 registered on March 30, 2006)
ISO 14001: 2004 / JIS Q 914001: 2004
(registration number E1682 registered on December 21, 2006)
Area of Registration
Business activities related to the design and manufacture of heat treatment facilities and their surrounding equipment
Registered Organization
Takasago Industry Co., Ltd.
Quality and Environmental Philosophy
Takasago Industry is responsible for continuous quality improvement and customer satisfaction in consideration of environmental conservation. We conduct business activities based on high-quality "manufacturing" and timely "service" centered on heat.
Fundamental Policies for Quality and Environment
We will build and operate a system to realize our management philosophy and promote environmental conservation and quality improvement activities.
We are committed to continuous improvement and prevention of pollution. To that end, we will accurately assess the impact of our business activities on the environment, deliver better products to our customers and gain their satisfaction. In particular, the following items will be given top priority.

1)

We will improve quality by developing innovative technologies and reforming existing ones to archive customer satisfaction.

2)

We will promote products that support energy-saving in consideration of environmental conservation.

3)

We will improve quality and reduce environmental impact by improving productivity.

We will comply with relevant legal requirements, regulations and other obligations that we agree.
To achieve the environmental policy, we set and implement objectives and targets. We will review them if necessary due to changes in the surrounding environment.
This policy will be thoroughly informed to all employees and concerned personnel. In order to implement and maintain this, we post the policy in the company and clarify the location of responsibility through communication.
This policy will be open to the public.